Bow windows and bay windows add distinction, wide-ranging views, and a lot of natural light to any home. But homeowners still have many questions about these elegant windows that grace many Virginia exteriors. If you are remodeling and require window replacements, you probably have many of the same questions, so today we will answer some of them to help you make educated decisions about today's modern bay window ideas.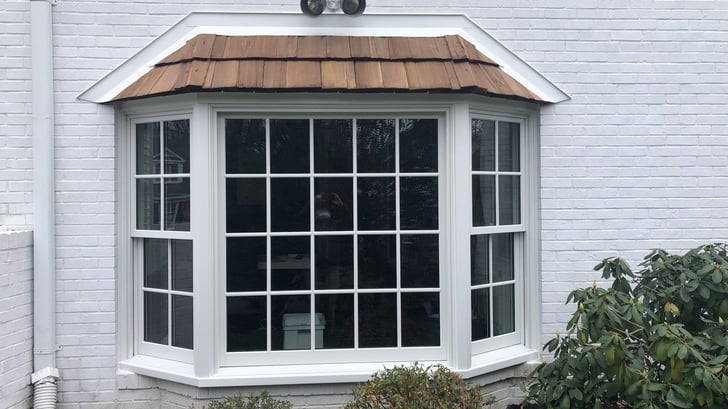 What is the difference between a bay window and a bow window?
First: how can you tell a bay window from a bow window? Driving around appreciating the variety of Sterling windows, you've probably called a bow window a bay window more than once. Both types "bow" outward to extend the size of a room by creating a sort of interior "bay". Yet, by definition, a bay window has only three window panes. A bow window can have four or more panes. A bay window usually creates a bigger interior space and can angle further outward. Bow windows, depending on how many panes are used, create a shallower, more curved, and less angular outward profile and a smaller interior space.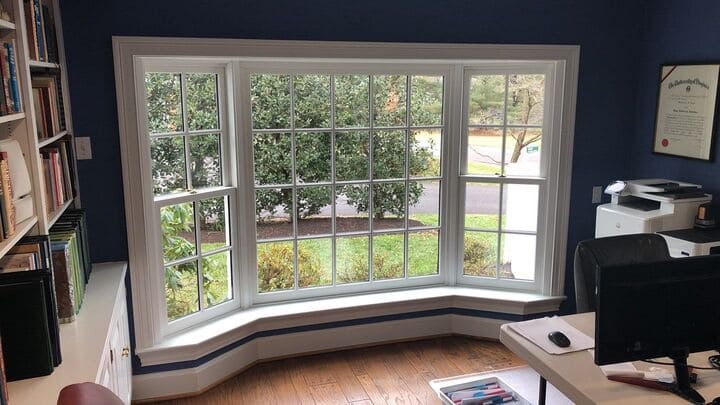 Are Bay Windows Outdated?
Not at all. They were at their height of popularity in the 70s, but today's top home designers are bringing back bay and bow windows in a big way today because they save energy and heighten the elegance of any room. There's nothing like an exterior bay window to boost curb appeal. In fact, many homeowners who want to sell their older homes opt to replace old windows with new ones before selling for that very reason.
How to Determine Window Size for Room: Is a Bow or Bay Window Best?
If you are getting to the point where it's time to replace your windows, there are a lot of things to consider when choosing the bow or bay window dimensions you might want to add. The nice thing is that many choices can be customized to your design specifications as long as the window dimensions go along with local building codes.
One restriction, for example, could be the sill height: no higher than 44 inches off the floor so that you can easily see out the window when sitting in a chair.
Other considerations include whether you want to pay for total customization to the dimensions you would like, or if you are willing to choose from a wide variety of "standard" dimensions.
Another consideration is where the window installation will take place. First of all, which room will the windows go into? This will determine how much natural light you want to bring into the room. Just as important, however, is asking what direction the room is facing: north, south, east, west, or some combination? Talking with your window experts will help you make the best choices for which type of window goes in the kitchen vs. the living room, a master bedroom vs. a spa bathroom, etc.
It may be more helpful, instead of talking about specific heights and widths (which can be customized to a large extent) to talk about proportions for bay windows and bow windows instead. Considering a three-panel bay window as one whole, it's a good rule of thumb to allow the outward-facing panel to account for about half of the total window space, rounding out the side panels at about a quarter each (to make up the other half of the whole). The side windows can be single or double-hung windows or even casement windows. Or, you can also have each panel take up one-third of the total.
As for bow windows, the ratio depends on how many panels you add. So, for example, if you want a 5-panel bow window, each panel would take one-fifth of the total window space.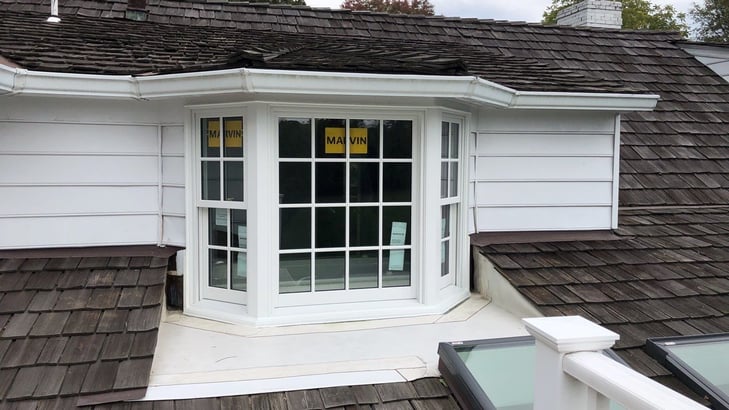 Which is Cheaper: Bay or Bow Windows?
Of course, the cost of bay windows or bow windows depends on several factors. For example, a very large bay window that extends a room significantly will be more expensive than a small bow window that only forms a small alcove in a wall. Windows of comparable dimensions can be compared, however. As there are fewer panes in a bay window, making for less work with molding, drywall, and roofing customization, these are usually less expensive. Bow windows require more panes and can be more complex to mesh with the other elements of the house, which is why they can be more expensive. In addition, some variations of bow windows would be difficult to open, whereas bay windows usually come in various designs for opening.
Bay Windows or Bow Windows: Sterling Replacements
If you are remodeling your home and want to elevate the state of your windows with the bay or bow windows Richmond VA homeowners are getting excited about this season, schedule a consultation with us at Window and Door Showplace today. We can help you decide which window dimensions will work best in your project.