Energy efficiency. It's a desirable characteristic for a home, yet the concept remains a bit elusive. In short, what makes a house energy efficient and is it worth the investment?
Some of the first residential elements to consider when you're exploring these questions are your residential windows and doors. Replacing or upgrading the products you use, combined with proper installation techniques, can go a long way in making your home in Northern Virginia or the D.C. metro area more energy efficient and augmenting its long-term value.

What Type of Windows are the Most Energy Efficient?
Windows and doors are considered energy efficient if they keep cold air out and warm air in during the winter, and vice versa during the summer. This allows your family to run your HVAC system considerably less often, cutting down on how much energy you consume.
There are few standardized qualities used to measure and rate windows and doors for energy efficiency. These include:
1. U-Factor
The U-factor is related to insulation, or the rate of heat loss from a building. According to the EPA, the lower the U-factor, or U-value, the better a window insulates your home in Northern Virginia. Most products fall between the 0.2 and 1.2 range, and you want to lean toward low U-value windows.
2. Solar Heat Gain Coefficient
The Solar Heat Gain Coefficient (SHGC) is associated with how much solar heat passes through the glass or vinyl into your home. High SHGC windows indicate that the glass is permitting a significant amount of heat into your house, which could mean having to run your air conditioning system more often. Low SHGC numbers indicate the glass is preventing a large amount of solar heat from entering your home's interior.
3. Visible Transmittance
Visible transmittance (VT) is an optical property that is expressed as a number between 0 and 1. It measures how much visible light can pass through the glazing material on your windows and doors. You want a high VT to maximize sunlight and be able to use electric lights less frequently. Double- and triple-pane windows usually have a VT value between 0.3 and 0.7.
4. Low-Emissivity
Another term you'll see in relation to glass windows is low-emissivity, or thermal emissivity. Low-E glass windows are designed to maximize the light coming into your home while minimizing ultraviolet (UV) and infrared rays that can damage interior materials.
These specs give you guidance on what to look for when buying replacement windows and doors for your property. However, you can make your decision-making process even more deliberate.
For its ENERGY STAR program, the Environmental Protection Agency (EPA) has created a map that breaks the United States into four separate regions, or climate zones. The right windows, doors and skylights for your residential property can vary, based on which zone you live in. For example, Northern Virginia and Washington D.C. are in the North-Central Zone. The EPA's suggested ratings for this zone are:
Skylights: U-factor at or below 0.53 and SHGC at or below 0.35

Windows: U-Factor at or below 0.3 and SHGC at or below 0.4
Doors are assessed a bit differently, because most don't include glass or have a lower glass-to-frame ratio, according to the EPA. The glazing level of a door—or the amount of glass included—influences the performance criteria.
You can evaluate the U-factor, SHGC numbers, and other characteristics when looking for vinyl and glass windows and doors from a variety of manufacturers. For example, both ProVia and Marvin Windows offer several product lines that balance quality and comfort with energy efficiency.
These manufacturers have various framing materials, glazing and weather-stripping options, spacers, fillers and other technologies to help you find high-performance windows and doors that will simultaneously enhance the energy efficiency of your home and look aesthetically pleasing. You can find ProVia and Marvin windows, skylights and doors in a variety of styles to complement your interior design and exterior façade.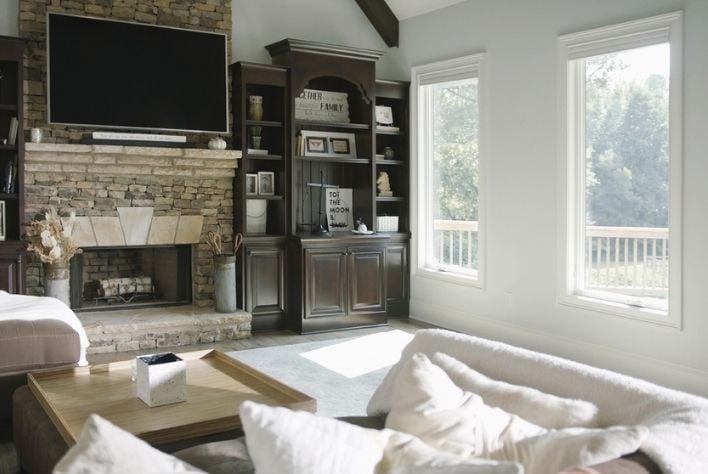 Are Energy Efficient Windows Worth It?
There are a couple tangible benefits of installing energy efficient doors and windows at your home in Washington D.C. For example, you can save on your monthly energy bills and enjoy a more comfortable indoor environment on a daily basis. You won't have to deal with undesirable drafts or the buildup of condensation that can lead to mold and mildew. Low-emissivity coatings also help protect your furniture, carpets and floors from sun damage.
There also is the ethical component to consider. Eco-friendly products contribute to conserving energy and natural resources, which are finite. Prioritizing energy efficiency at home is a way you can take part in lowering carbon emissions and preserving the natural environment.
Installing Energy Efficient Doors & Windows in Northern Virginia
The doors and windows you select for your home renovation can only do so much in terms of performance and energy efficiency. They need to be properly installed in order to maximize the advantages. Our team at Window and Door Showplace provides that piece of the puzzle. Not only do we have access to some of the best product lines, giving you latitude to mix and match doors and windows to achieve your desired design style, but we also have the right tools and techniques to install them properly, helping you maximize the return on your investment and obtain the long-lasting benefits of energy efficiency.