Vacations to lush, relaxing destinations are not always in the cards, but it is all I can think about lately. How about you? Wherever your castle is located, there are some totally attainable ways to get this popular Resort-Style Trend in your own home.
Experts in Design and Trend Forecasters emphasize that designing a vacation getaway space in your home is a great way to unwind, recharge, and channel some vacation vibes into your everyday life.
Bring the Outside In
Marvin Windows has options that allow you to bring the outdoors in for easy entertaining or for creating a place to kick back in. You can create your own all inclusive resort, right in your own living space. Installing new French Doors, Sliding doors, or a custom bi-fold window combined with home decor can create a signature vacation getaway vibe that is entirely your own.
Add Window Treatments
Invest in some window treatments for those new windows and doors. Resorts and hotels use blackout curtains paired with sheer drapes that allow for the perfect night's sleep, with the sheer privacy that allows panoramic views and light. Traditional curtains not your style? Look to natural fiber woven roman shades with fabric-lined curtain panels. Though you may not have an oceanfront view, you can create an eye-catching focal point by arranging your layout to make the most of beachy art and interesting architectural elements.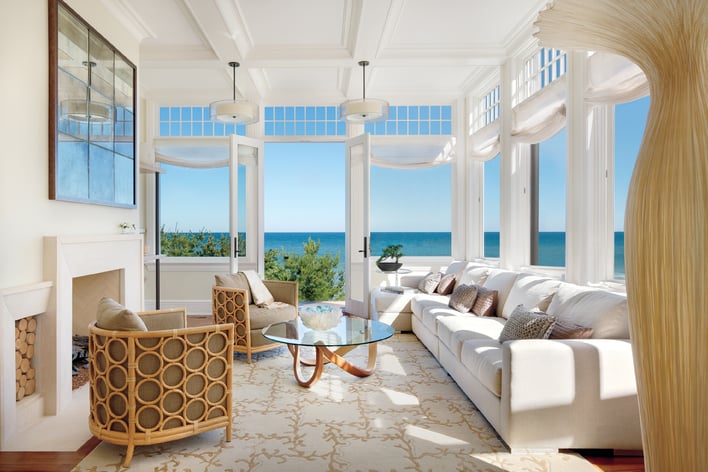 Decorating Your Space
Rattan, wicker and other natural fibers are having a resurgence. These materials have a resort vibe. Add chairs, tables and rugs made of these textiles to your resort space. Better yet, don't limit them to the porch, sprinkle them inside too!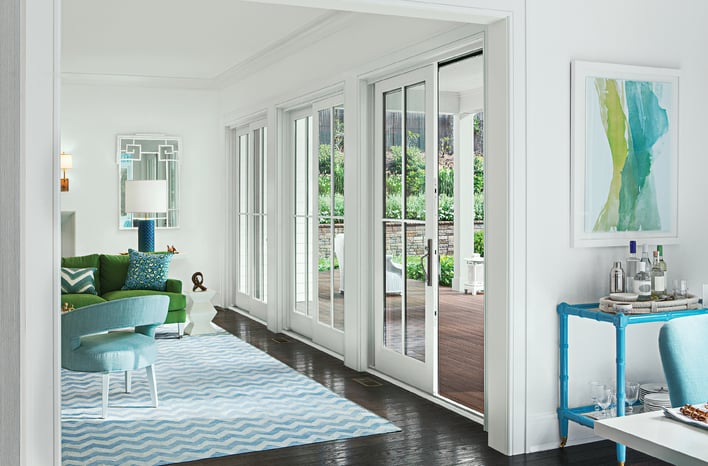 Choosing Color Blocks
Add bold colors in blocks coordinated with airy textiles and rattan chairs. Using blues, greens and whites tones will remind you of ocean getaways and induce relaxation. Use different window and door finishes to highlight materials or create a stylish mixed wood look that is subtly unique.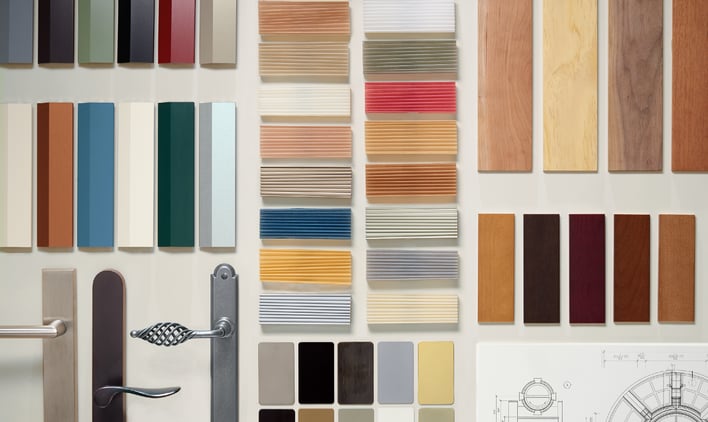 Luxurious Bathroom Retreat

Luxurious free standing soaking tub. This has multiple pluses, if all you can handle is one room to decorate, why not choose the master bath? Nice fluffy bathrobe, tropical scented bath bombs, add some music and call it your own personal spa vacation. Don't forget to invest in a good solid door with excellent locking hardware, or if you are more of a family vacation kind of person, invest in some good absorbent towels and spread them out on the floor and let the kids take a "swim" in the tub!
Add Live Greenery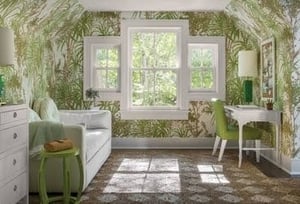 Fill out your rooms with plants, plants, and more plants! Layering potted plants of all different sizes in corners or hanging from the ceiling can bring in a sense of the outdoors and tropical settings. Or better yet, dedicate a room in your house to all your plants. If you do not possess that elusive green thumb, utilize wallpaper, art and other home décor.
Other Relaxing Ideas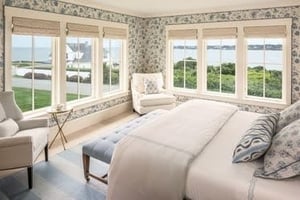 Treat yourself to a bathrobe, crisp white linens and chocolates. This isn't necessarily a décor tip – more of a luxury must have. Always have a bathrobe handy, maybe even one you purchased from your last resort vacation. Resorts aren't resorts unless they have monogrammed robes, right? Get some miniature chocolates and put them on your pillows.
Designing a space worthy of a social media trending staycation extends beyond a lounge chair and pretty umbrella. Adding easy stylish openings with windows and doors, custom finishes, textures and living color can transform your area into a space you can enjoy for many seasons to come.
Visit a showroom near you or take a virtual tour.