Enjoy your home even more by adding more natural light and improving your access to your outdoor living areas by choosing the best patio door for your home. The right type of patio doors depends on your home and your style.

As you're looking around for patio door options, you'll notice just how many there are! This guide will help you narrow down which new replacement patio door is right for your home, based on energy efficiency, style, and function.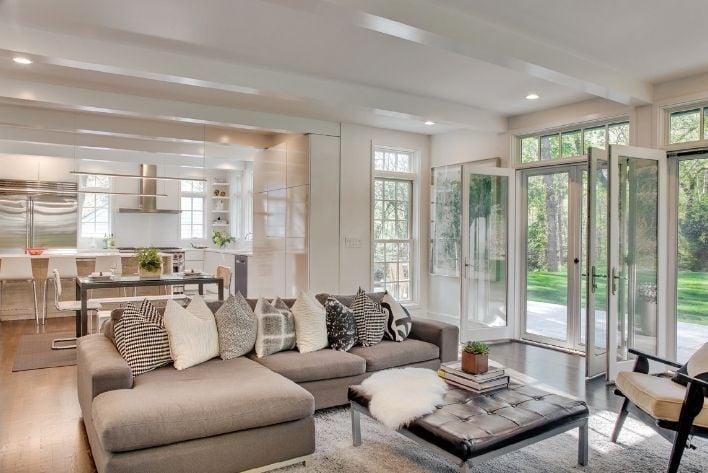 What Are the 4 Main Types of Patio Doors
You may be looking to replace your current door or are interested in installing a brand new patio door opening to make your outdoors more accessible. Here are the four main types of patio doors for you to consider.
French Doors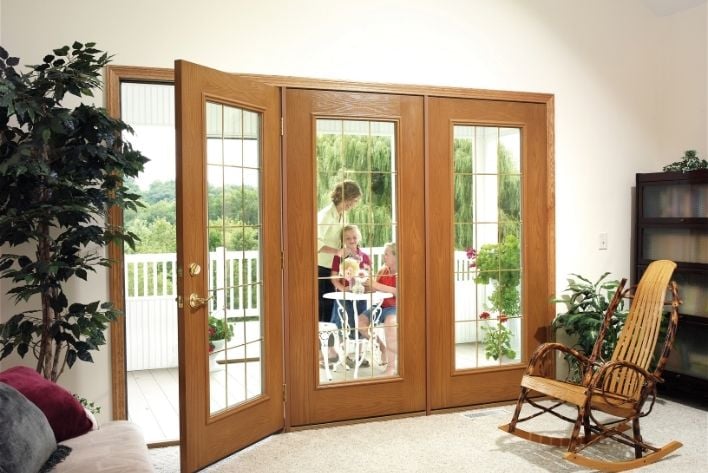 French patio doors are a pair of doors that have hinges so they swing inward or outward. The panels are made of glass which allows natural light into the space. The glass may have grilles for a traditional or transitional style or can be full glass panels for a more contemporary look. French doors are available in a large variety of styles to allow you to choose the perfect design for your home.
French doors may be designed so that both panels open, or they may have just one panel that opens. When you choose a pair where both doors open, you'll have the opportunity to increase your home's natural light and fresh air. When you need privacy, some French doors are designed to include built-in blinds between the glass panels that can be opened and closed by a cord or a sliding handle. This keeps your blinds clean and in great condition. Other ways to gain privacy with your French doors are curtains or traditional blinds that are mounted above and below the glass panels.
The French door's exterior pushes against the jamb when pushed, making them ideal for homes subject to high winds. The harder the wind pushes against the door, the tighter it will fit against the jamb.
Sliding Patio Doors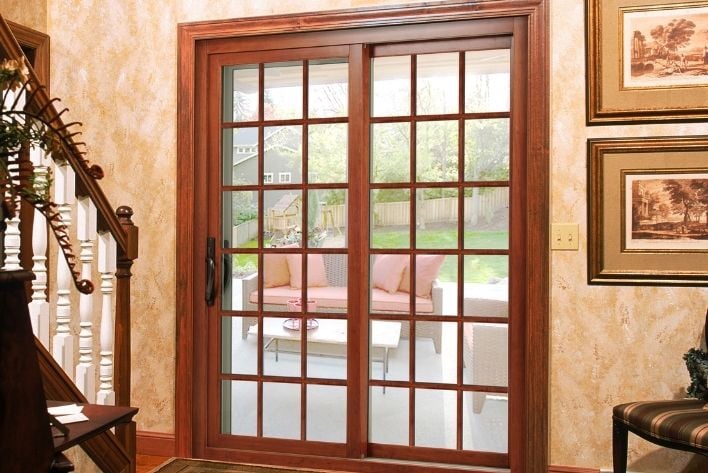 Sliding patio doors are one of the most common types of patio doors in today's homes. Because they slide rather than swing, with one-panel gliding in front of the other, they require less floor space than French doors. Sliding patio doors can also include a glass panel with or without grilles. You can choose wood framing on the inside and fiberglass on the outside, or fiberglass on both.
When thinking about sliding patio doors, many homeowners picture a single sliding door and a fixed door. However, double sliding patio doors are a popular choice with today's homeowners because both door panels slide so you have more variability than with a single sliding panel.
Bi-Fold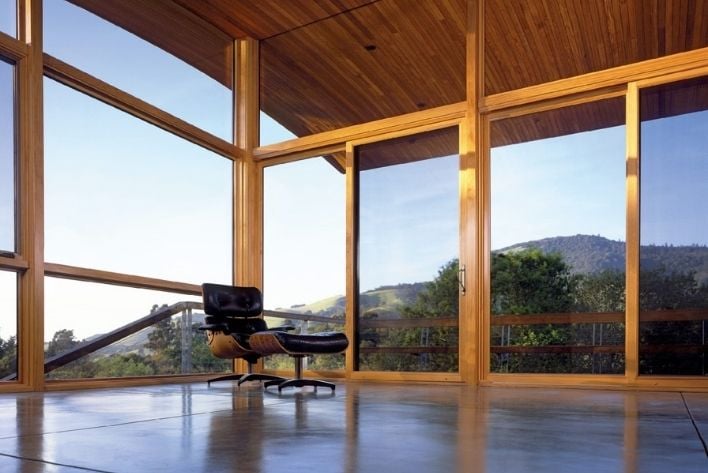 Bi-fold doors are made up of multiple panels that fold onto one another, which is why many people refer to them as accordion doors. The panels can fold to the side to create an opening of up to an incredible 55 feet long! The space-saving quality of bi-fold doors means you can make the most of natural light and fresh air while creating an impressively large point of access.
If your home has a long deck or porch already, create a much larger opening to connect your living room and outdoor living space. Create a great open living space where you can move easily between the indoors and outdoors and make your living space feel huge and airy. Don't want to open every panel to walk out to your deck? Choose a style that comes with a traffic door that can operate independently as a regular hinged door while keeping every other panel fixed in place.
Multi-Slide
Multi-slide doors are similar to sliding doors in that the doors are on a track to slide to the side. What makes them unique is your multi-slide doors can be tucked away into a pocket into the adjoining wall to completely open. Multi-slide doors can come in multiple panels and create an opening of up to 50 feet. The width of your multi-slide doors is only limited to the size of your wall and the thickness of the pocket available. When the doors are closed, they create a wall of windows that allow a massive amount of natural light to pour into your home, especially with floor-to-ceiling panels.
To level up your ease of access, choose a multi-slide door set equipped with a button that will automatically open and close your doors. For a manual option that still offers a lot of ease, Lift and Slide multi-slide patio doors are designed for ease and performance. They are made using a system that lifts each panel from the track to slide to the side effortlessly. Your patio door opening with lift and slide doors can reach up to 47 feet.
Common Sliding Door Materials
After you decide on the style of your patio doors, you'll choose the material of your doors. The common materials available include:
Wood – Wood is a classic door material that offers many different color options and makes it easy to add decorative glass or customized shapes.

Vinyl – Vinyl requires minimal upkeep and it also allows for decorative glass but can become misshapen over time with drastic temperature changes and heavy use.

Aluminum – Aluminum sliding doors resist both rust and mildew and are very lightweight.

Fiberglass – Fiberglass patio doors are low maintenance, incredibly durable, and come in a range of textures that resist dents and warping.
.
Consider Customization
One of the perks of adding a patio door to your home is the option to customize the design. You can add larger sections of glass, more grille work, decorative hardware, and more to make the patio door fit your home's architectural design perfectly. Make sure you work with a professional installer to give your door the perfect fit for your home.
Increase Your Home's Energy Efficiency with New Patio Doors
Adding a large door with windows to your home may seem like a bad idea for energy efficiency, but modern sliding doors can actually be quite energy efficient. If you are shopping for exterior doors in Washington, DC, or Northern Virginia, look for doors with good weatherstripping and a high insulating value. High-quality modern-day ENERGY STAR patio doors are built to reduce UV rays, keep your home's temperature consistent, and keep air from passing through seams. Then, with professional installation, you can be confident that the door will serve your home well.
Add Value to Your Home with Custom Patio Doors
Many homes are laid out in such a way that sliding glass doors make sense as their exterior doors. Whether you choose modern fiberglass or traditional wood, adding a patio or sliding glass door will increase your home's style and functionality. Both of which increase your home's value.
If you are ready to improve your home with new patio doors in Northern Virginia or the D.C. metro area, reach out to Window and Door Showplace for a quote. Let our design and installation team show you how we can transform your home with custom sliding doors.