Patio doors can help you better enjoy your home by adding more light while also improving the accessibility of your outdoor living areas. Patio doors can also become an architectural accent in your home to make it more appealing and attractive. Yet as you look at your door options, you may find yourself wondering what are the best sliding glass doors for your needs.
When the time comes to replace your patio or sliding doors, you want the confidence that you have found the right choice. This guide will help you understand the types of patio doors on the market today, so you can choose the right one for your home's needs.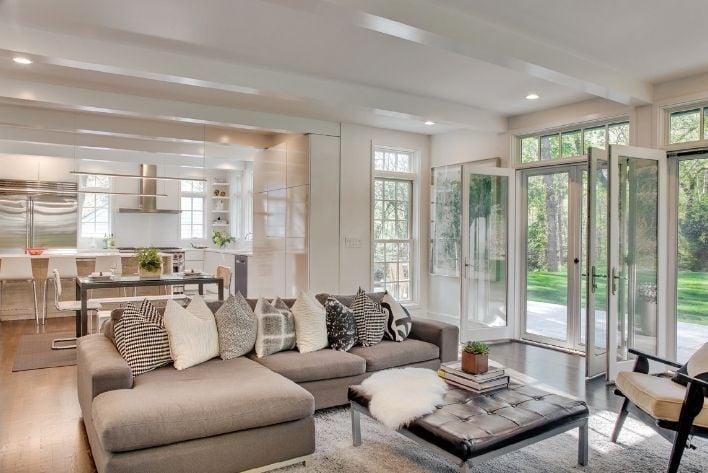 3 Main Types of Patio Doors
If you have a patio door opening in your home or are considering adding one to make your outdoors more accessible, there are three main types of doors available for your consideration. Each has its own benefits and drawbacks to consider:
French Doors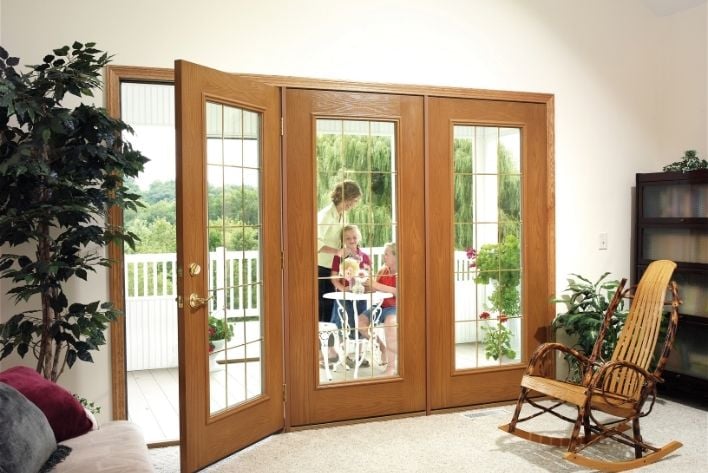 French patio doors have hinges so they swing in and out. They are typically a two-door combination that has hinges on opposite sides, connecting in the middle. The panels in the doors are made from glass to allow natural light into the space, and they can have grilles to add interest to the doors. French doors have a larger style range that allows for personal touches and a more unique look. However, they come with fewer daylight openings.
French doors may be designed so that both panels open, or they may have just one panel that opens. They may also come in a sliding version. The French door's exterior pushes against the jamb when pushed, making them ideal for homes subject to high winds. The harder the wind pushes against the door, the tighter it will fit against the jamb.
Sliding Patio Doors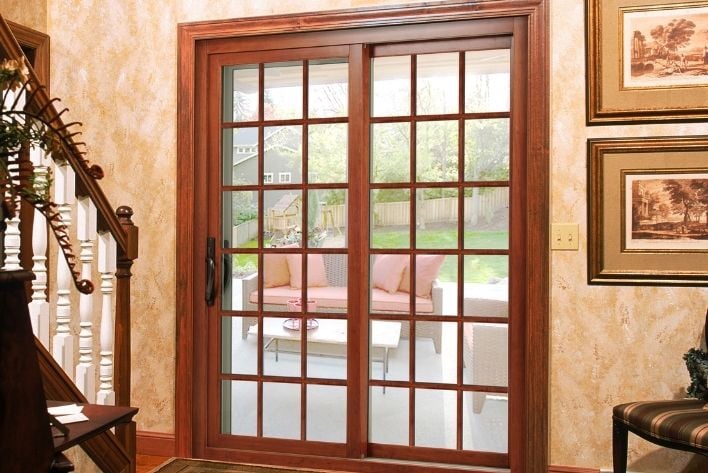 Sliding patio doors are one of the most common types of patio doors in today's home. Because they slide, with one-panel gliding in front of the other, rather than swing, they require less floor space than French doors. While they do have hinges, they do not have to have a grille, so they can allow plenty of unencumbered light into your home.
Double sliding patio doors are a popular choice with today's homeowners because they have two panels that slide. Some patio doors only have one panel that slides, with the other remaining fixed. Either way, these doors are great for accessibility and natural daylight.
Bi-Fold, Multi-Slide, Lift and Slide Patio Doors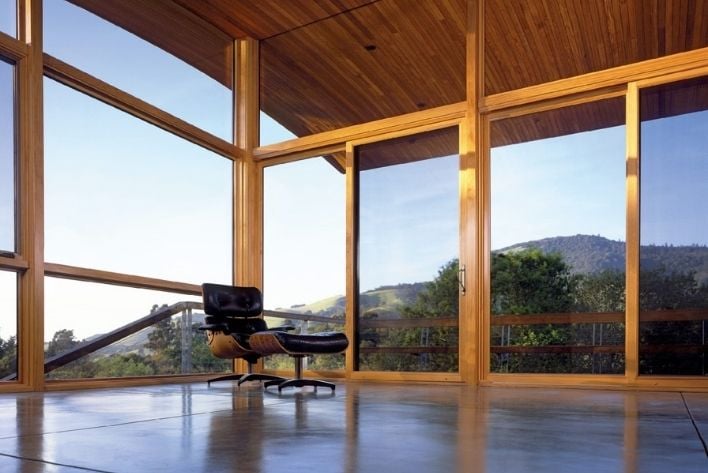 French doors and sliding doors are the most common option, but bi-folding patio doors provide a third choice that has become a popular trend. The styles that are particularly popular right now include lift and slide and multi-slide doors.
These modern sliding doors have a sliding track but rather than sliding one panel in front of the other, they fold open to create a large opening. If you want the ultimate accessibility between your main living area and your outdoor spaces, then a folding patio door is a good choice.
Lift and Slide and Multi-Slides are popular trends now as well. Here's a list of some of Marvin's most popular patio doors:
Common Sliding Door Materials
In addition to choosing the style of your sliding glass doors and patio doors, you will also need to consider the materials when ordering these products. Doors have two main materials, the glass component and the frame's component. The common materials available include:
Wood – Wood gives many different color options and makes it easy to add decorative glass or customized shapes.
Vinyl – Vinyl is quite energy efficient and requires minimal upkeep, and it also allows for decorative glass.
Aluminum – Aluminum sliding doors resist both rust and mildew and work well for sliding glass doors in Northern Virginia and Washington, DC, because of our mild climate.
Steel – Steel doors are ideal when security is the main concern, and they are also resistant to rotting and shirking.
Fiberglass – Fiberglass patio doors are low maintenance and come in a range of textures that resist dents and warping.
.
Consider Customization
One of the perks of adding a patio door to your home is the option to customize the design. You can add larger sections of glass, more grille work, decorative hardware, and more to make the patio door fit your home's architectural design perfectly. Make sure you work with a professional installer to give your door the perfect fit for your home.
Patio Doors Can Protect Energy Efficiency
Adding a large door with windows to your home may seem like a bad idea for the energy efficiency of your space, but modern sliding doors can actually be quite energy efficient. If you are shopping for exterior doors in Washington, DC, or Northern Virginia, look for doors with good weatherstripping and a high insulating value. Then, with professional installation, you can be confident that the door will serve your home well
Add Value to Your Home with Custom Sliding Glass Doors
Many homes are laid out in such a way that sliding glass doors make sense as their exterior doors. Whether you choose modern fiberglass or traditional wood, adding a patio or sliding glass door will increase your home's attractiveness and functionality. Both of these increase your home's value.
If you are ready to move forward with new patio or sliding glass doors in Northern Virginia or the D.C. metro area, reach out to Window and Door Showplace for a quote. Let our design and installation team show you how you can transform your home with custom sliding doors.