Good windows bring any room to life, and the kitchen is no exception. If you're building or remodeling a kitchen or having issues requiring you to replace your older kitchen windows, give serious thought to designing for kitchen windows that go over the sink. In addition to bringing in the all-important natural light for daily kitchen tasks, they give the person working at the sink something to look at outside, or as part of the window design itself. They can also be helpful for extra ventilation, which is important in any busy kitchen. So, as you consider your new kitchen design plans, pay special attention to the windows for kitchen sink needs, both in terms of functionality and design delight!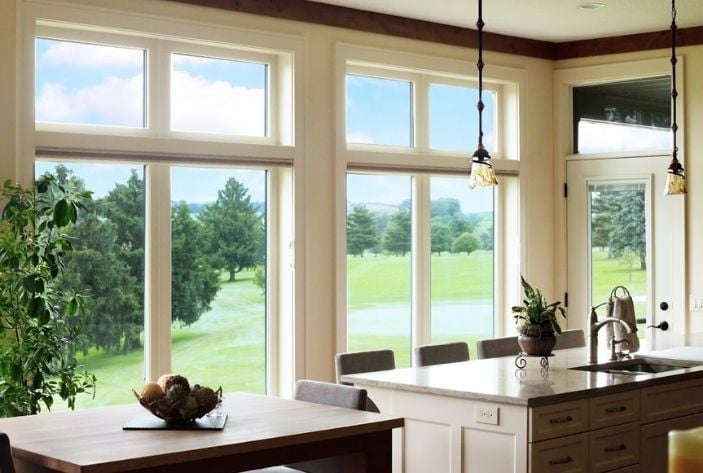 The 4 Key Attributes of Windows for Kitchen Sinks
In the kitchen, a window can be more than just a window, particularly if it goes over the kitchen sink. Depending on what type and size of window you decide to put there, it can do so much more. Consider the following attributes as you choose kitchen sink windows:
1. Balance Natural Light and Energy Efficiency
In kitchen design, more natural light is preferable; but the type of light, the angle of the light, and the season have a lot to do with how useful and comfortable that light is. If your sink is situated along a southern wall, you may consider having an awning that can shade your sink area from the summer sun but be retracted in the winter to enhance the amount of natural light you get there in the wintertime. Also, as home improvements go, upgrading to energy-efficient kitchen windows is a super way to make your kitchen more comfortable and money-saving all year, regardless of what direction your kitchen sink windows face.
2. Easy to Use and Clean
In addition to light and energy efficiency, selecting windows that are easy to open, close, and clean is very important. Often, casement or awning windows with an easy-to-reach handle or lever will work well here. Just remember that you don't want to do gymnastics as you reach over the kitchen sink to clean them either, so placement and design will be important. Both vinyl and composite windows are easy to clean, but composite windows are also easier on the environment, generally speaking.
3. Enhanced Ventilation
The kitchen can get hot, steamy, and sometimes even smoky or smelly, depending on the day. Designing a kitchen that allows for windows that can open to create a cross breeze can make working in the kitchen a lot fresher and more comfortable. If your kitchen design doesn't allow this currently, you'll know it may be time to replace your kitchen windows.
4. Delightful Aesthetics
The best kitchen windows will play into the overall design theme of the kitchen and look great while doing it. Make sure to choose windows that balance both form and functionality, giving the person at the sink something visually interesting to enjoy.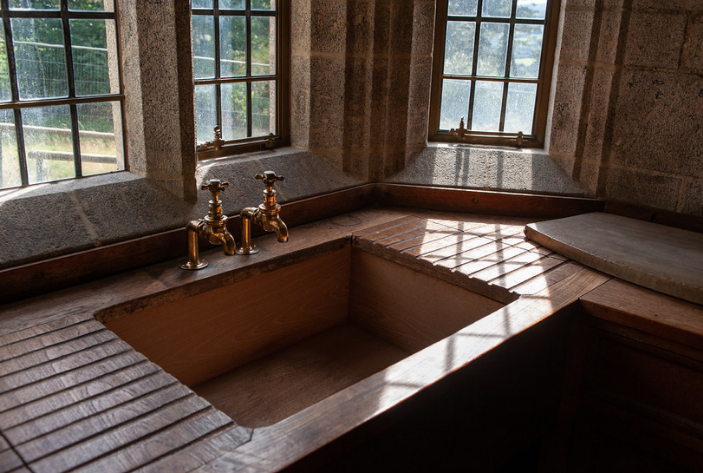 Best Kitchen Windows for Over the Kitchen Sink
With these four attributes in mind, it becomes a matter of design and personal taste when choosing the best kitchen windows for your over-the-sink needs. Depending on how you want your window to work for you, these are all good choices to consider:
1. Awning Windows
If excellent ventilation while blocking inclement weather is a major goal for your windows over the sink, consider an awning window over the kitchen sink design. Opened either by a hand crank or handle, you push an awning window outward from the bottom, creating a sort of "tent" effect that blocks rain from getting in.
2. Casement Windows
Like awning windows (which are a type of casement window), casement windows over kitchen sinks are a good option for increasing airflow, again opening with a hand crank. When open, they are great for ventilation, but they also seal tightly closed to save energy.
3. Sliding Windows
These are easy to use by sliding in one direction or the other with one hand. You can also get them in custom sizes to fit your particular kitchen sink area just the way you want them to.
4. Garden Windows
Garden windows create a sort of greenhouse over the kitchen sink with an extended sill and window panes on both sides, the front and top of the sill, enhancing any natural light that hits those panes. If you want to have your own miniature cooking herb garden there, it's a great place to remember to water your plants, since you'll see them every time you're at the sink.
Kitchen Windows from Window and Door Showplace
You have a lot of options for windows over the kitchen sink that can fit your individual design and functionality requirements. Discuss your kitchen window needs with the Northern Virginia window experts at Window and Door Showplace to get the perfect windows over your kitchen sink.