A door is much more than just a way to get in and out of your home. The color and style of a door set the tone for the feeling of the entire house. Exterior doors are major security points and should be both solid and strong. Of course, because like windows, doors create opportunities for unconditioned outside air and pests to enter, they need to create a robust seal when closed. Like most things, doors wear out over time. If you're wondering whether it's time to replace a door, or how to replace your front door, we can help.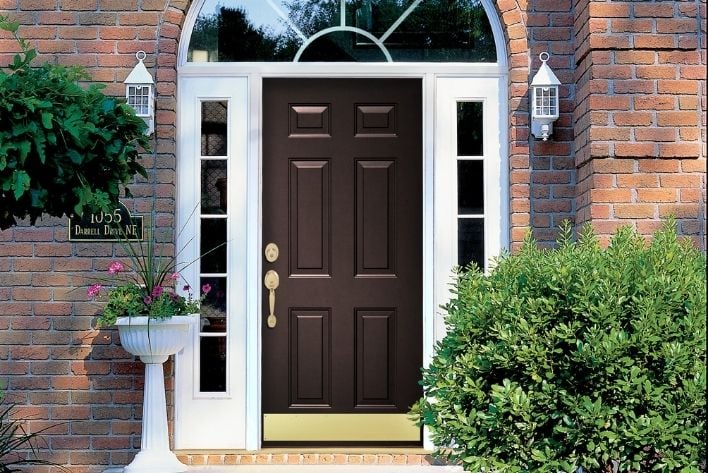 5 Signs It's Time to Replace a Front Door
From a utilitarian standpoint, a door is a pretty simple thing. Your front door may still be doing its job, as a barrier to wind, rain, the elements, and unwanted visitors, but these are not the only reasons your front door may have seen better days. As any good real estate agent will tell you, a high-quality front door is important to make the right first impression on potential buyers. Even if you aren't planning on selling your home any time soon, the quality, character, and structural integrity of your front door can affect your quality of life. So we got our team of door and window experts here at Window and Door Showplace together to talk about the reasons people replace their exterior doors. Here's what we came up with.
Elevated Utility Bills
If you've noticed your HVAC bills going up and up despite not using it more than usual, you are probably losing conditioned air through cracks in the seals around a window or door. Windows are usually the first places people look for openings, but front door drafts are also a likely suspect. You can test a door by checking around the edges for water, moisture, or even light ingress- particularly around the bottom edge. A good way to test your seal is to spray the entire door down with your garden hose. You should be able to expose it to a great deal of high-pressure water with no water getting inside your house. After you spray it down, check inside. Cracks in the door and seal failures will be indicated by moisture inside our house.
Moisture, Mildew, and Mold
If you have a failed seal or if your door is structurally compromised, and it has been in that condition for some time, chances are you're going to be able to find minor water damage, mold, or mildew. Open the door and inspect all around the edges and especially the seal. The edges and seal should look good and solid. Manually inspect the seal by pressing it gently all around the perimeter of the door. Rotting wood can be found under the thresholds when there has been water infiltration. If the rubber feels softer than it should, or if you notice any cracks that open up when you depress the rubber, then that's going to be an ingress point for wind and rain. Any moisture, mold, or mildew on the interior side of the seal also shows you that the door is not sealing properly. If the door has become warped or misshapen, the seal may be in good condition, but the door still won't keep out water, wind, and pests. A compromised seal can be replaced fairly easily. But if the shape or the integrity of your door is out of order, it's time for a house door replacement.
The Door is Looking Rough
Doors take a lot of wear and tear. If your door is banged up, and looking sub-par, it may be time to replace it. You might even keep it and use it elsewhere if it's still in working condition, but simply replace it to make your entryway look nicer.
Warped and Weathered
As mentioned above, doors can become warped with time. This is especially true of high-quality hardwood doors- which are the best looking doors. It is almost impossible to repair a front door in this condition. If your door has become warped or cracked, replacing it is your best option.
Boost Your Curb Appeal
In film, directors use door color and style to set scenes. You can do the same whether it's simply for your own enjoyment, or boost the curb appeal of your home for resale.
A Note About Door Windows
If you have windows in your door that have become cracked or have a failed seal, the entire door may need to be replaced. Oftentimes, creating a custom pane to replace front door glass will be more expensive than replacing the entire door itself. That means you have an opportunity to put a new face on your home entryway.
Whether it's to save money on your heating or cooling bills, keep pests at bay, to feel more secure in your home, or simply to update your décor, you want to make sure your new door is well made and stylish. You also want it to take and form a tight seal that lasts. That requires a quality product from the door manufacturer and quality craftsmanship from the installer.
To learn more about quality doors and installation, get in touch with the window and door experts here at Window and Door Showplace.