As one of the best ways to add value to your home, new windows and doors bring high-impact updates to your home's exterior and interior. They can also boost the style, convenience, and energy savings of your home. If 2022 is your year to update your doors and windows, we can help you select the right style, and we can even help you with the ongoing glass trends that can take your doors and windows to a new level of style and functionality. Here are the most notable window and door trends for 2022, compiled by Northern Virginia's Window and Door Showplace:
Window Trends 2022: 5 Fresh Ideas

Replacing your windows can bring a significant return on investment because they boost curb appeal for potential homebuyers. But even if you plan on staying in your home, new windows can elevate your home's style and save a lot of energy. Newer, high-quality windows prevent heating or cooling leakage and can actually help moderate indoor temperatures year-round with less help from your heating or air conditioning systems. They also enhance the amount of natural light coming into your home, which prevents you from having to flip on light switches. In addition to these practical reasons to replace your windows, 2022 window trends include some fun designs as well:
1. Arched Windows
Arched windows give a feeling of distinction and character that provides visual interest and a softer shape than the typical angular feel of square and rectangle windows. The arched window is very on-trend this year because it speaks well to the "bring nature inside" trend as well, which seeks to soften lines and hearken back to natural shapes and textures.
2. Shaped Windows
Circle-shaped windows or windows even shaped like hexagons, triangles, and other geometric shapes are rising in popularity. Windows aren't just for bringing in light and ventilation; they're becoming a design essential that really sets off interior spaces as well as exterior finishes.
3. Window Walls
Replacing solid walls with more window space is also becoming increasingly popular as it enhances views of the outside. Many homeowners are combining these "window walls" with their outdoor living and entertaining spaces to create a more seamless transition from the indoors to the outdoors while still enjoying climate control on the inside space. Naturally, window walls allow for a greater rush of fresh air and bring plenty of natural light into any room.
4. Floor-to-Ceiling Windows
If you don't have enough wall space for a window wall, a narrower floor-to-ceiling window design might be just what you need. The long, tall windows are wonderful design elements bringing still more sunlight into spaces for energy savings and better health. Floor-to-ceiling windows can be situated to accentuate the design elements of your home.
5. Brighter Colors
Both exterior and interior design experts have been bucking the old ways of having window frames that were the same color as the walls, or some neutral color. Window frames are coming in more colors to contrast or complement wall colors, both exterior and interior. While black remains a popular exterior wall frame choice, brighter colors are also coming into play.
2022 Door Trends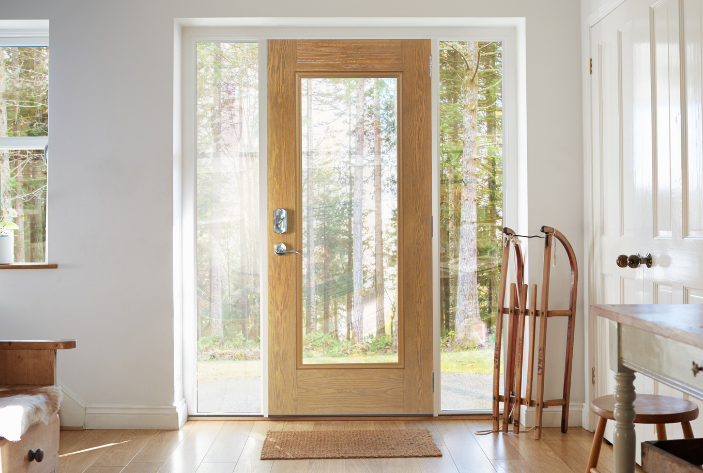 As exits and entrances, doors are an exterior and interior focal point for any home. They need to be secure, energy-efficient, and stylish. Furthermore, updating your front door is one of the best home improvements for ROI. Here are 3 major door trends to keep in mind:
1. Front Door Trends 2022
If you're thinking of replacing your doors this year, bigger is actually better. Front doors are getting both taller and wider to be more inviting, comfortable, and generous. Double-leaf doors just increase that generous feeling. Adding a window arch or side windows, or windows all around the door is another hot trend to increase the amount of light and space around the door. Custom colored doors are also very on-trend this year.
2. Interior Door Hardware Trends 2022
The good news is that you have thousands of options for interior door hardware, and nothing is really off the table unless it does not fit in with the rest of your style selections. The main thing to consider is whether your hardware (door handles, doorknobs, locksets) properly fits the style of the room it's facing. So, if you are leaning toward a more modern, minimalist style for a room, choose sleek, modern-looking door handles or knobs that reflect that style. If you are going classic, try some vintage glass doorknobs instead.
3. Should I Add a Window to a Door?
Yes! The more natural light, the better, and this year's trend of adding more windows on, over, and alongside your doors fits here too.
Contact the Window and Door Showplace
The Window and Door Showplace is Northern Virginia's premier source for home improvements involving your doors and windows. Contact us today for a consultation.